Discover an extensive range of performance disciplines at Directions Theatre Arts
To order a welcome pack, application form, prospectus & DVD please enter your details below
ABOUT DIRECTIONS THEATRE ARTS
Julie M. Cox F.I.D.T.A. & Geoff Cox
Directions Theatre Arts is a leading musical theatre school that was established in 1994 by Julie M. Cox F.I.D.T.A., a highly qualified dance teacher, and her husband Geoff Cox, a talented musician. With a focus on dance, musical theatre and singing, DTA offers comprehensive tuition to help students achieve excellence in these disciplines. Our programs are tailored towards social achievement, professional contracts and preparing students for careers in the teaching profession. Our students have gone on to achieve great feats, including performing on Cruise Ships (COSTA CRUISES, FRED OLSEN, mv DISCOVERY, P&O, OCEAN VILLAGE, CARNIVAL & PRINCESS) and gracing the stages of well-known West End musicals such as MAMMA MIA, EVITA, GREASE, HEAVEN SENT, to name a few. Other alumni of DTA have used their experiences gained here to improve their confidence and character.
All teachers at DTA are fully qualified, experienced and hold a current enhanced CRB disclosure. We are guided by the principle of ATTITUDE, which encourages a positive approach in all our endeavours. Our instructors are skilled at bringing out the best in each individual student, nurturing their natural abilities and encouraging them to reach their full potential. We are committed to helping our students achieve their dreams whilst being realistic, fostering an environment of inspiration and self-belief. Choose Directions Theatre Arts for the best musical theatre experience.
Directions Theatre Arts works to a policy of ATTITUDE: to be positive, ABILITY: to bring out the best in each individual, AMBITION: helping to nurture dreams whilst being realistic.
What can I say about my time spent at Directions Theatre Arts- it is where some of my fondest memories were created.
From an early age I lived and breathed music. My training led me to study at some of the UKs most prestigious performing arts and music conservatories, but the building blocks of stage craft and my confidence as a performer were laid at DTA.
During my time at the school I took part in many great productions, and all shows were staged in professional theatres with a paying audience and reviewed by local newspapers. This meant we were responsible as performers to a public audience who had paid good money to see us- and gave me invaluable stage experience.
Looking back this experience was priceless.
As I moved into the classical musical world my time on stage often put me head and shoulders above my contempararies. It is a quality that continues to stand out in DTA students today. They always look so comfortable on stage and ooze professionalism.
Its no secret the music industry is one of the most brutal professions, where coping with rejection is vital to a performer and was one of the earliest lessons I was taught at DTA. Not just how to accept rejection but more importantly how to pick yourself up and have the determination to succeed.
Its not always easy. But the incredible support from the teachers and students at DTA never failed to spur me on and gave me the drive to keep going and never give up.
Sincerely
Carly Hopkinson-Paoli
Foreword from "DAN BAKER"
"
The diverse training Directions Theatre Arts has given to myself and many others has enabled us to be equipped for what this career demands
"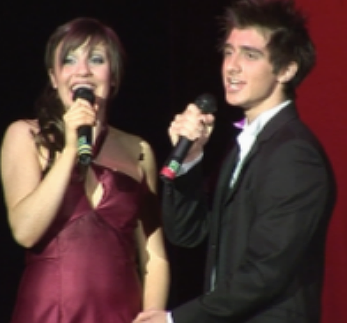 Dan performing a with another alumni Ami Evans.
I started Directions Theatre Arts at the age of 16 having never done a dance step or sang a note in my life. The 3 years I spent training there were phenomenal. The training was intense and working with great teachers and alongside such talented friends provided me with the platform and opportunities needed to start my career. Doing regular festivals and competitions gave me the experience I would later use in auditions in London, as the urge to win and get the job are the same in this business.
The diverse training Directions Theatre Arts has given to myself and many others has enabled us to be equipped for what this career demands – from ballet to gymnastics, musical theatre to improvisation. The more you can do, the better.
I achieved my first job with Costa Cruises as a dancer, auditioning whilst at Directions and when I got back I auditioned straight away for Disneyland Paris. After doing two six month contracts abroad, I decided I wanted to take my musical theatre studies even further and auditioned for The Arts Educational school in London.
Studying for another 3 years and gaining a degree in Musical Theatre. I came straight out of college into a pantomime at The Grand Theatre in Blackpool and when I finished that short stint I returned to London to start auditioning for all the shows. After a lot of rejection and getting to the finals and being cut – I received my big break – I was invited to join the cast of Mamma Mia! I have now been in the show nearly 2 years, I met my fiancée and we now have a 6 month old baby boy.
To wrap it all up, being a student of Directions Theatre Arts gave me confidence, inspiration, drive, the urge to succeed and not give up, and above all the mindset that you can achieve whatever you set your mind to.
If I'd have never stepped through those DTA doors, I wouldn't have the perfect life I have now…
Thank you,
Dan Baker 
FOREWARD FROM BERNIE CLIFTON
'The diverse training Directions Theatre Arts has given to myself and many others has enabled us to be equipped for what this career demands'
I'm delighted to have the opportunity to sing the praises of Directions Theatre Arts. Since collborating with Geoff & Julie some time ago on a charity show for a local school I have been constantly impressed by the dedication, hard work and professionalism that is the trademark of the Directions Theatre Arts concept. By delivering the 'Complete Package' time after time, DTA always guarantee total satisfaction of managements and 100% enjoyment to audiences across the land. Finally the talent they have produced is awesome
I have been lucky during my career to have worked alongside some of the biggest stars in Musical Theatre and can say, hand on heart that the boys and girl students of DTA would hold their own in any company. Their skills and confidence gained by being taught by the right people in the right environment will stand them in good stead where ever they go. May I wish DTA the very best of luck in the future and I say that Geoff, Julie & Team share my philosophy knowing…The Harder You Work the Luckier You Get'.
Sincerely
Bernie Clifton, 2007
Our town centre studio is located within the heart of Chesterfield, Derbyshire
1a-2a, Sheffield Road,
Chesterfield,
Derbys.
S41 7LL
We have five fully equipped studio to provide the right environment for students to thrive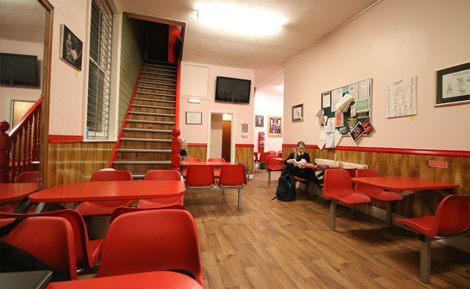 Our Green Room offers the perfect space for students to relax between classes